Action Figures and Accessories
Any action figure related WIPs go here. 1/6, Mego, Playmates, Kenner....anything like those are welcome. Maybe you're doing some bashing or restoration. This is the place to show them off.
07-20-2015, 09:02 AM
It's gonna get real now.

Join Date: Oct 2007

Location: Bound for Starbase Atlanta

Posts: 18,405
1/6 USS Miranda Crew
---
Check this out!
Bill Krause (Admiral Buck) and I are starting work on a web comic featuring my Miranda and his 1/350 USS Sentinel. We're in the beginning stages right now. We're assembling our crews in 1/6 and are building whatever set elements we'll need for them.
Vehicle-wise, my Miranda is complete, his Sentinel is starting construction, and we're working on various small craft to go along with them.
Needless to say, this is going to take a LONG time to come to fruition....but till then, here's a teaser: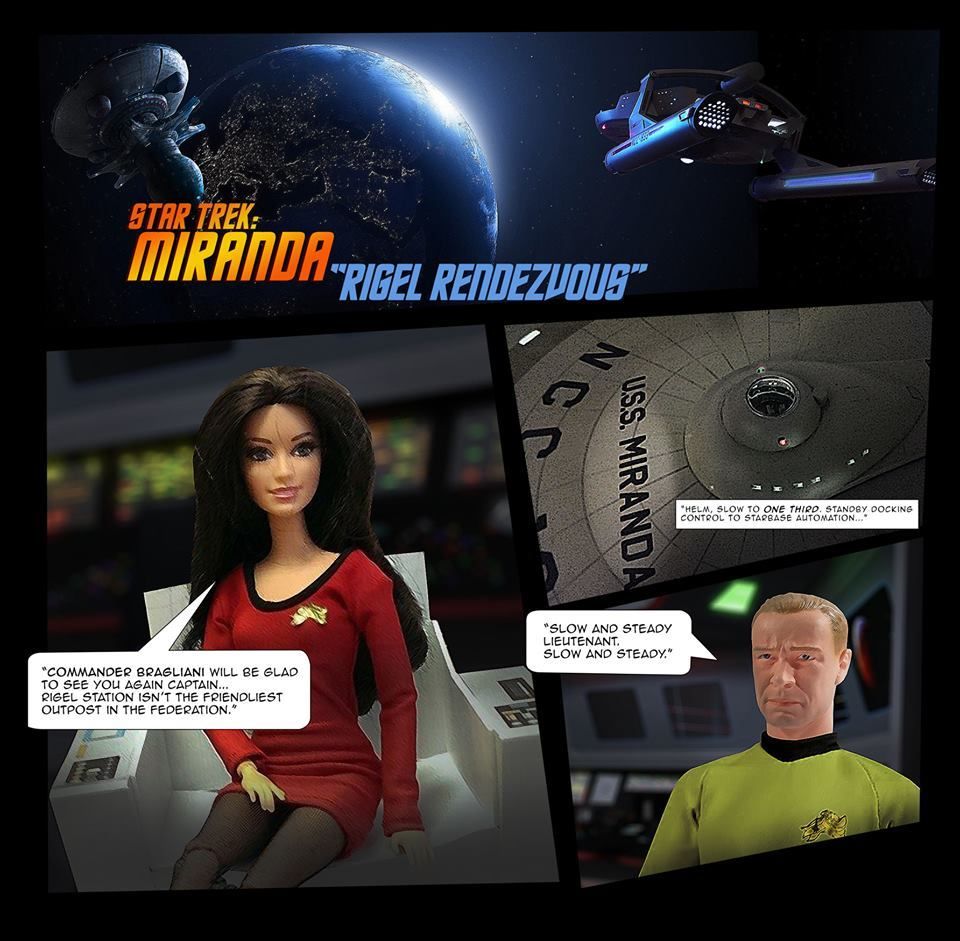 Isn't that cool? Pics by me - art by Bill.
Here are the 'characters' I have finalized so far: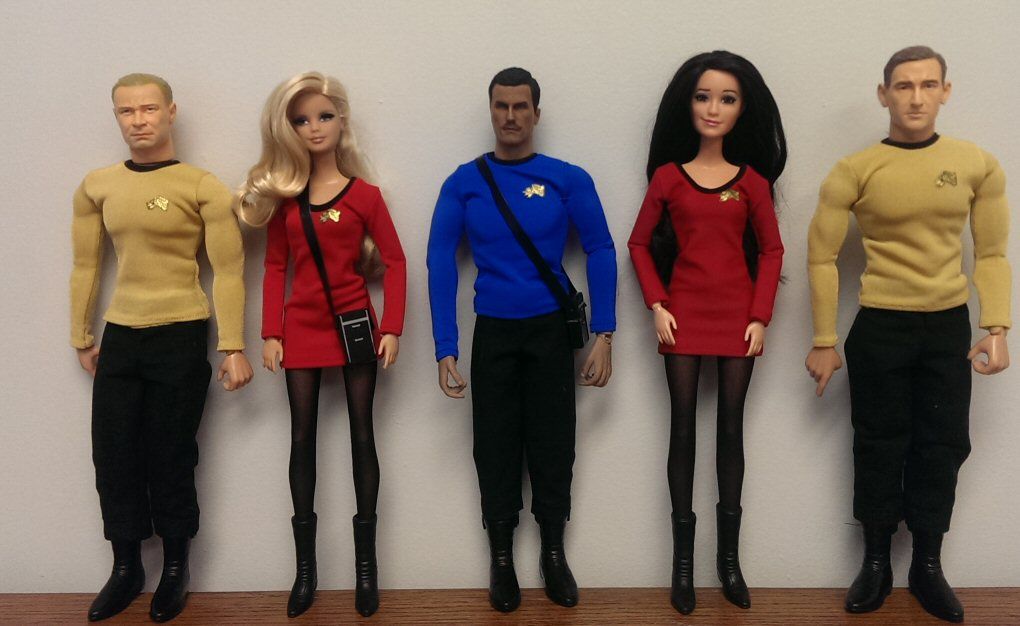 l-r: Captain, Yeoman, Science Officer, Comm Officer, Helm.
Here's the breakdown -
1. Captain Jeffrey Corliss
He has a Dragon body.
Uniform by SMcG Customs
.
Boots from the Star Trek Barbie
set. Head is an unknown I found on eBay. I 'cast' Kelsey Grammer as the Captain....this head is close with a little bit of Admiral Nelson from VTTBOTS mixed in.
2. Yeoman Martina Perkins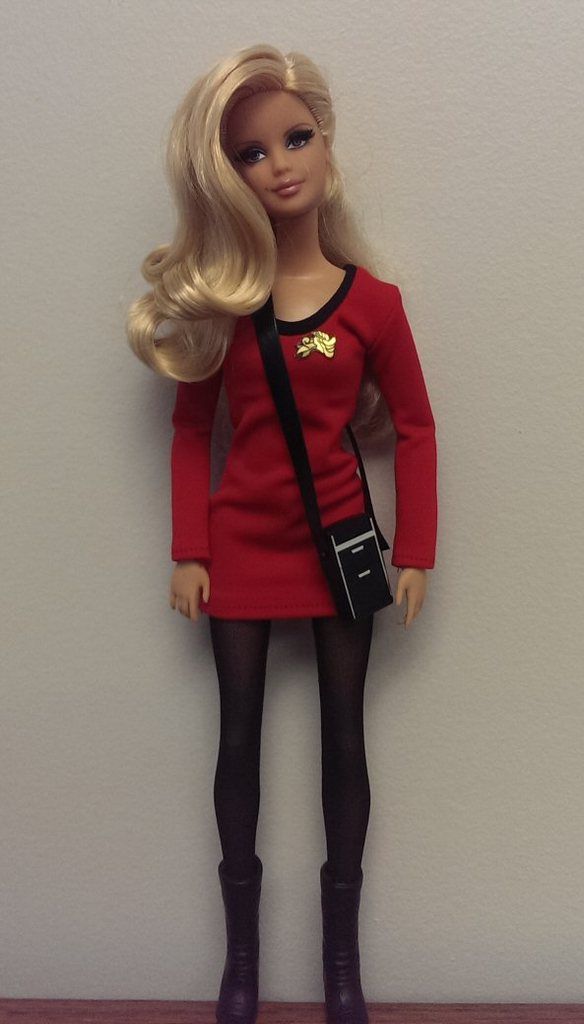 Marti has a Pivotal Barbie body. Her head came from the
Barbie Look Red Carpet
collection. Uniform by SMcG Customs,
hose from Monkeydepot.com,
Tricorder and boots from the
Star Trek Barbie set
.
I 'cast' Alyson Michalka as my yeoman - the head's a pretty decent match:
3. Science Officer Nicolas Ramirez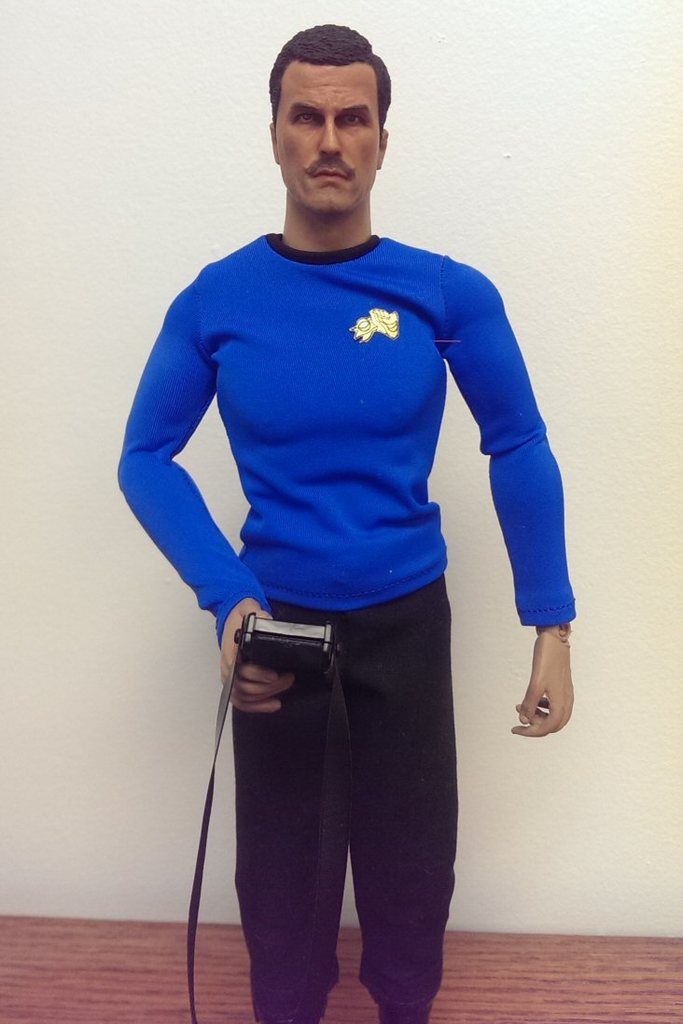 Head and body came from a
Caltek WW1 Imperial Infantryman
.
Uniform by SMcG Customs
, boots and tricorder from the
Star Trek Barbie set
. I had originally 'cast' George Eads as the science officer, but Bill pointed out that this figure looks a LOT like David Boreanaz....I like Mr Boreanaz, so that's who I'm going with.
4. Communications Officer Lidra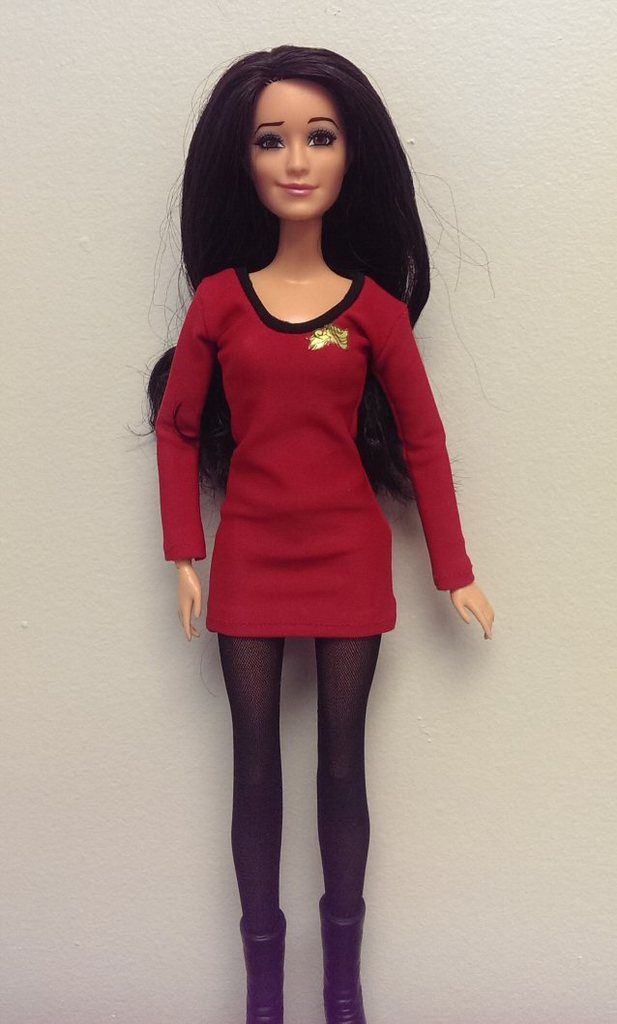 Lidra's body and head came from a
Barbie Life In The Dreamhouse Raquelle
.
Hose from monkeydepot.com
, uniform from SMcG Customs, and boots from the
Star Trek Barbie set
.
She has another head that came from a Barbie Style Glam Raquelle (thank goodness for eBay and people who part these things out!):
....so she'll have a couple facial expressions.
I based her on Katy Perry. There are essentially no factory Katy dolls available. Lots of people do custom, or OOAK, Katys - and they almost all use Raquelles as a base - so I used Raquelles for this character. The only mod I plan to do to the faces is to change the eye color - Katy has bright bluegreen eyes to Raquelle's brown.
5. Helmsman William Rickson
Mr. Rickson's
head and body came from monkeydepot.com
. I got him because he was inexpensive, plus he kind of reminds me of Stiles from Balance of Terror.
Uniform from SMcG Customs
, boots from
Star Trek Barbie.
Extra hands from monkeydepot too.
As a note, all females so far have the fully articulated Pivotal Barbie body. The biggest issues with Barbie bodies are the sizes of hands and feet. They're necessarily undersize so that it's easier for kids to dress the dolls while making sure the hands and feet aren't removable. They look okay as long as they aren't holding anything, but put something like a phaser in the hand and the smallness is apparent. I think I have a simple, inexpensive mod worked out so that regular-sized 1/6 female hands can be used on the Barbie arms. I'll let you know how it works!
One thing that needs to happen: Rank braids.
In the other thread, he figured out a cool way to make them using gold piping and metallic thread.
He sent me some supplies!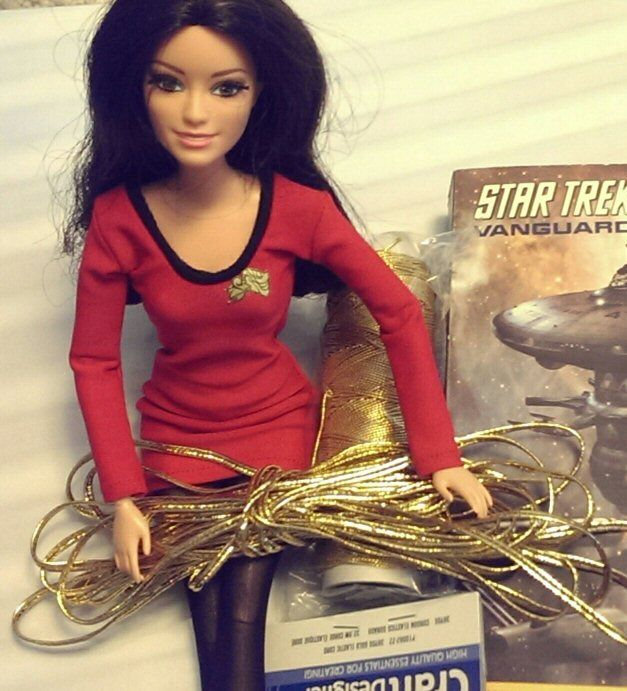 ---
Last edited by The Cat; 07-21-2015 at

01:56 PM

.
Currently Active Users Viewing This Thread: 1

(0 members and 1 guests)
Posting Rules

You may not post new threads

You may not post replies

You may not post attachments

You may not edit your posts

---

HTML code is Off

---
All times are GMT -7. The time now is
07:48 PM
.
Powered by vBulletin® Version 3.8.3
Copyright ©2000 - 2019, Jelsoft Enterprises Ltd.