| | |
| --- | --- |
| Wand Company Star Trek TOS Communicator | |
Product Reviews
Got a new kit, aftermarket accessory, or anything else modeling-related? Give us a review of it in this section. We need to hear the good and the bad. Please back up what you're saying with with photos (in cases of poor quality) or references (in cases of inaccuracies).
07-08-2016, 06:38 PM
It's gonna get real now.

Join Date: Oct 2007

Location: Bound for Starbase Atlanta

Posts: 18,405
Wand Company Star Trek TOS Communicator
---
TL;DR: Buy one.
I bought their phaser last year. Loved it, the quality is impressive - especially for its price. So, I knew I needed their communicator too.
On opening - inside the main box is the carrying case and instruction booklet. It also has a neat leatherette pouch for the comm, but I forgot to include it in the photo: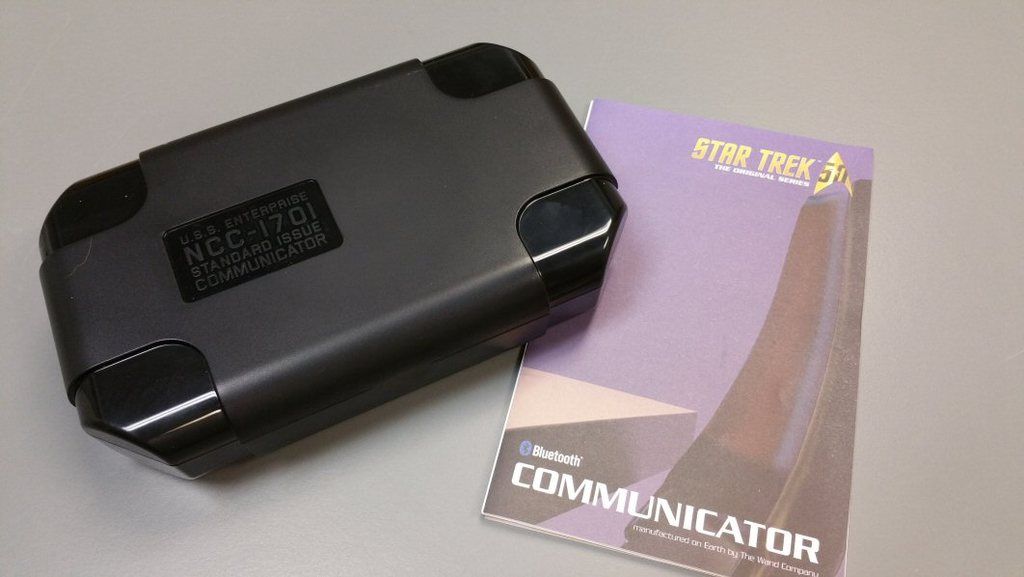 Opened up. It is similar to the phaser case, but easier to open. You get a two-part stand, the comm, and a USB charging cable: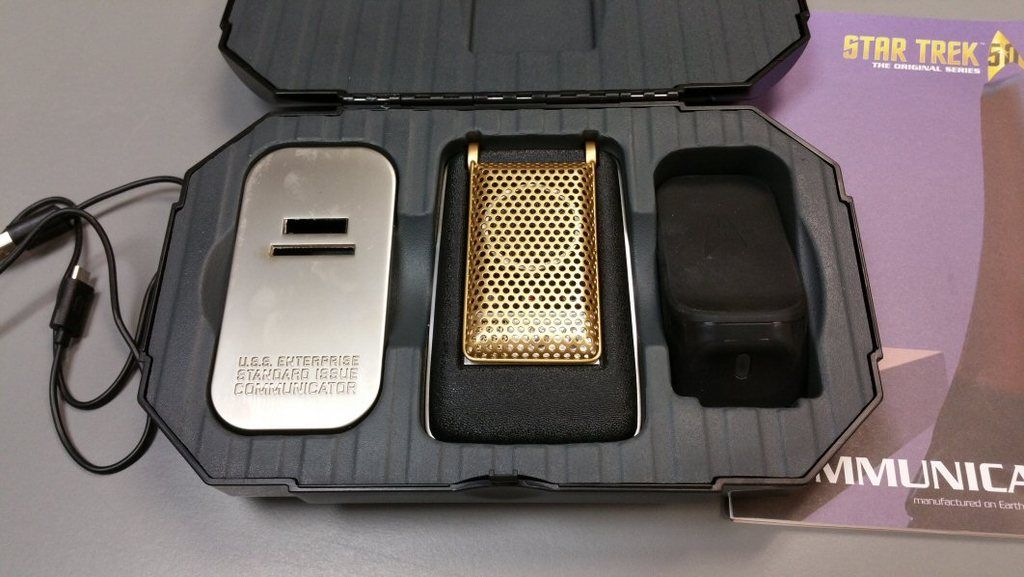 Here it sits on its stand: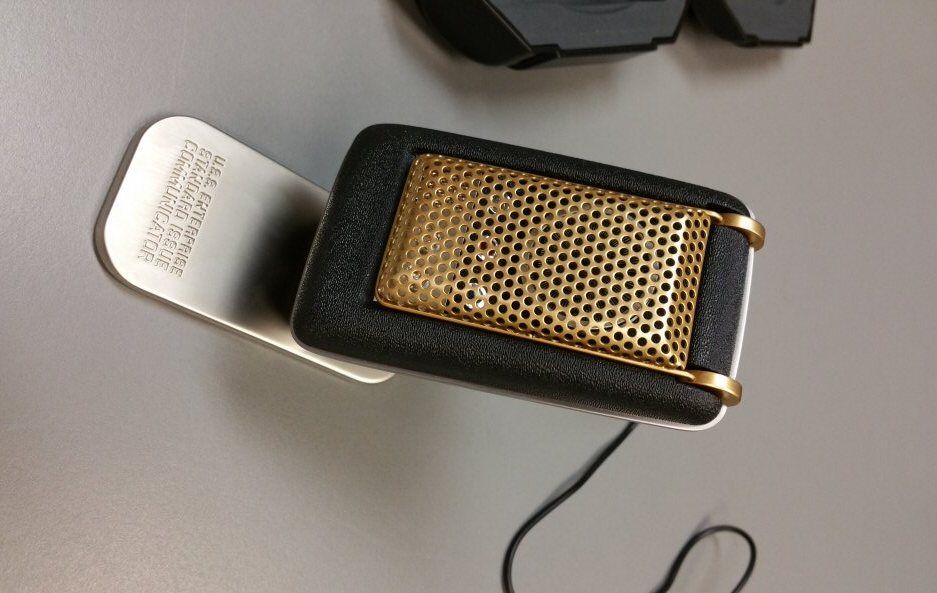 I plugged the USB cable into a computer and charged the comm up. The book recommends four hours - mine showed fully charged in about 3. YMMV of course. It charges while sitting on its base. Wirelessly. This sorcery!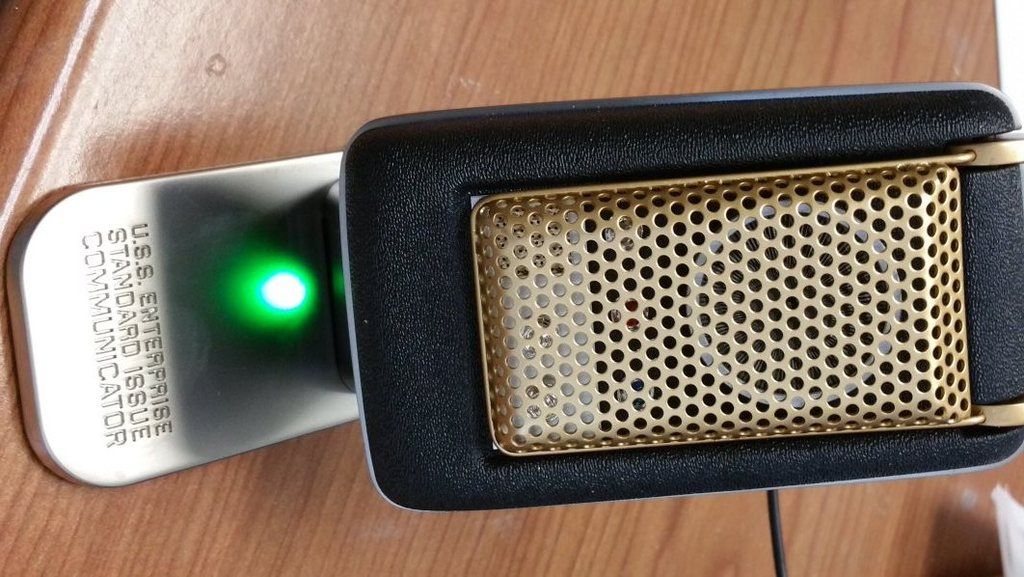 I used it in several phone conversations. I have used several different cell phones in speakerphone mode - this communicator sounds better than any of them. Volume level is set just right, very little distortion. It was very easy to feel like you were using actual 23rd century tech rather than some Bluetooth gadget.
The moire spins like it should - and it is essentially noiseless.
If you have played around with the Wand phaser, you know it has a solid heft to it - it feels like a real weapon. Same for this comm. It feels solid, sturdy, and substantial.
The blue light double-flashes when the comm is connected to a Bluetooth device...and stays steady-on when using it. The red light pulses with the sound coming out of the speaker, kind of like the Guardian of Forever did when he talked: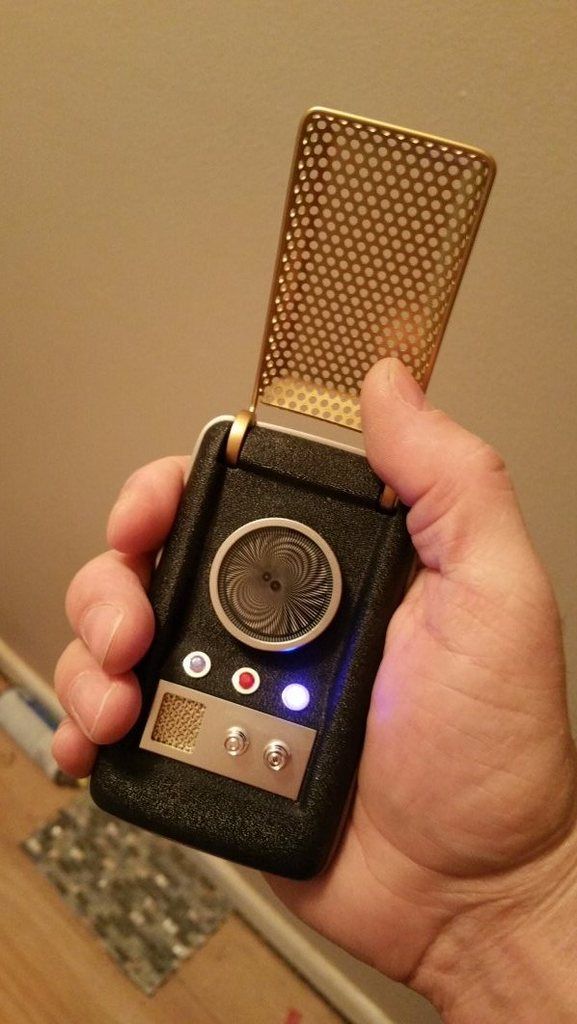 Time to see how it stacks up accuracy-wise.
In the photos below, Left is my build of a Dennis Stines kit - kydex shells, vintage Thunderjet hubs (for the light bezels and buttons), vintage gold speaker grille (from mid-'60s transistor radios), and correct Swarovski crystals for the 'lights'. Center is the Wand, and Right is the Diamond Select Toys comm that is currently available.
The DStines doesn't have a 'stop' on the lid, so it opens all the way.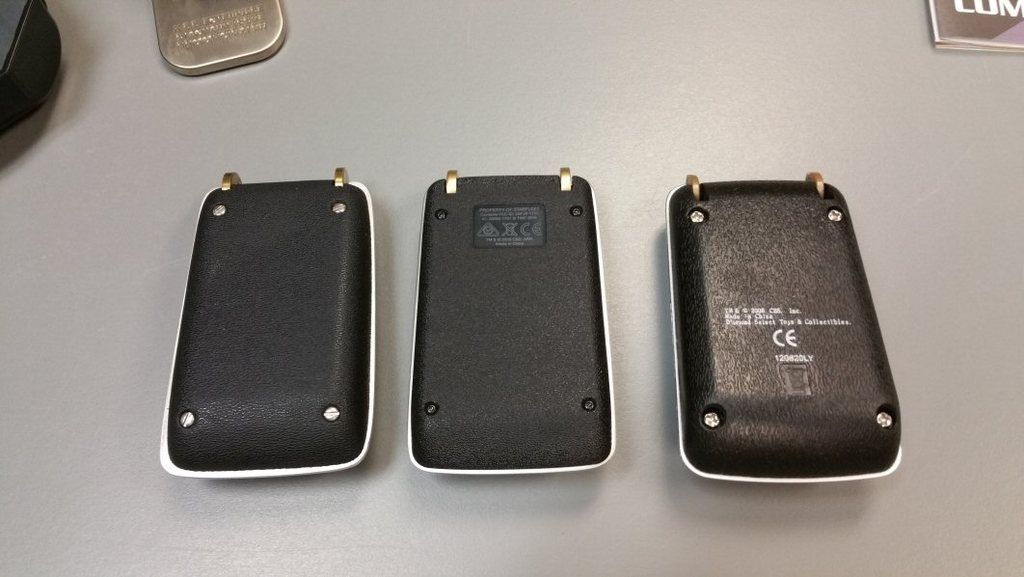 The Wand's lid isn't brass - it's painted metal. Like they did for the Wand Phaser handle, someone will probably make real brass lids for it - we never can tell.
Check out the details!
Wah Chang, the fellow who built the originals, had a small stash of Swarovski crystals. (They were quite rare at the time - they came from behind the Iron Curtain - but they're available in quantity now). He just glued them on at random - no rhyme or reason to the order - so practically no two comms were alike.
Look at the jewels on the Wand! Notice the multicolor look of the left and right jewels in the STines comm - that is an effect on some Swarovski jewels called AB - Aurora Borealis! They nailed it!
Ditto the look of the Thunderjet hubs, and the speaker grille!
Cons -
I'd rather the lid had been made of brass. I can live with this - it looks wonderful as-is.
Some people have commented that it doesn't have any form of belt hook or anything on the back. That's a matter of personal taste - personally, I wouldn't wear it anywhere like a convention - too easy to get damaged/lost/stolen.
Bottom line - I love this thing. The phaser is a neat prop. I never use it as a TV remote though - I don't feel like learning all the odd motions you have to know to get any use out of it. But the comm? You'd better believe I'll be using it even more as a Bluetooth communications device!
__________________
Current assignment:
U.S.S. Miranda NCC-1833
07-09-2016, 09:23 AM
No longer active

Join Date: Nov 2014

Location: Shangri-La

Posts: 1,130
Re: Wand Company Star Trek TOS Communicator
---
Great review! You've sold me on one.
07-09-2016, 11:21 AM
It's gonna get real now.

Join Date: Oct 2007

Location: Bound for Starbase Atlanta

Posts: 18,405
Re: Wand Company Star Trek TOS Communicator
---
You won't regret it one bit.
It ties in to your phone, so it uses whatever voice command feature your phone has. I started playing around with that last night - and it was really neat being able to push the button and say "Call Candace". It did so flawlessly.
And speaking of Candace, I've talked to her several times with this communicator. I didn't tell her I was using it - until today. Usually it is obvious to the other party when you're using a speaker phone - but not with this communicator.
A note about the right button. It is a five-position switch - it moves up, left, right, down, and in. There are five different voices depending on which way you push the button, and if you push it in and hold it for a second or so it goes to voice command mode:
Also, if you hold the Right button up or down, it increases or decreases the comm's volume.
The Left button is primarily used to power the comm up or down.
The buttons can be used together in different combinations for different purposes or sound effects, and the instruction book includes a spreadsheet explaining them all.
Holy Landru, but I can't wait to see what they do with the Tricorder!
__________________
Current assignment:
U.S.S. Miranda NCC-1833
Currently Active Users Viewing This Thread: 1

(0 members and 1 guests)
Posting Rules

You may not post new threads

You may not post replies

You may not post attachments

You may not edit your posts

---

HTML code is Off

---
All times are GMT -7. The time now is
02:02 AM
.
Powered by vBulletin® Version 3.8.3
Copyright ©2000 - 2022, Jelsoft Enterprises Ltd.