| | |
| --- | --- |
| DLM KBOP Positionable Wing Baffles | |
Product Reviews
Got a new kit, aftermarket accessory, or anything else modeling-related? Give us a review of it in this section. We need to hear the good and the bad. Please back up what you're saying with with photos (in cases of poor quality) or references (in cases of inaccuracies).
| | |
| --- | --- |
| | |
06-06-2012, 08:29 PM
It's gonna get real now.

Join Date: Oct 2007

Location: Bound for Starbase Atlanta

Posts: 18,399
Re: DLM KBOP Positionable Wing Baffles
---
That's a valid question, Sam.

The answer is that it isn't really the responsibility of a product reviewer to contact the manufacturer when something like this happens. I've seen that kind of thing happen (in a different hobby), and I think it is a bit unfair to the people reading the review. They need to know what they're getting into when they buy a product. Anyone who reads a review that I do is going to get it as straight as I can possibly shoot it, hair, teeth, asshole, and all.

(To clarify: when someone sends me a product and wants my evaluation of it, THEY are the ONLY ones to get my opinion. However, if I order someone's product off their website and pay for it out of my pocket like everyone else does, then I assume that they are comfortable with that product's quality. It gets my A-game then.)

Matthys does visit here occasionally, and he's had plenty of opportunity to see this thread. (He even mentioned this product in the New Products Section - 3 days before i started this thread) That's one thing. Another is that he has shown a buildup of these on his website, which was posted well before I ordered this set. I don't see how he could possibly have completed the build without running into the same problems I have - and if he DID discover those problems, why didn't he stop the presses and correct them?
04-18-2013, 07:50 AM
It's gonna get real now.

Join Date: Oct 2007

Location: Bound for Starbase Atlanta

Posts: 18,399
Re: DLM KBOP Positionable Wing Baffles
---
Here are some pics. She's almost complete. All she lacks is the four 'landing lights' and some final weathering, which she'll get tomorrow evening in preparation for a show on Saturday.
Set was finished with Testors Metalizer Gunmetal, and lightly drybrushed with MM steel and hints of various pastels were added.
The Bird itself - I went by Rodis' original STIII paint scheme. There is a great photo of the Bird in the book The Art Of Star Trek and I went by that.
Final verdict: Buy these, but be ready to do some work.
the only thing I wish I had done would have been to drill holes through a few from the rear so that I could pin the baffles in different positions. There isn't enough friction for them to stay in any position other than 'down'.
Anyway, pics: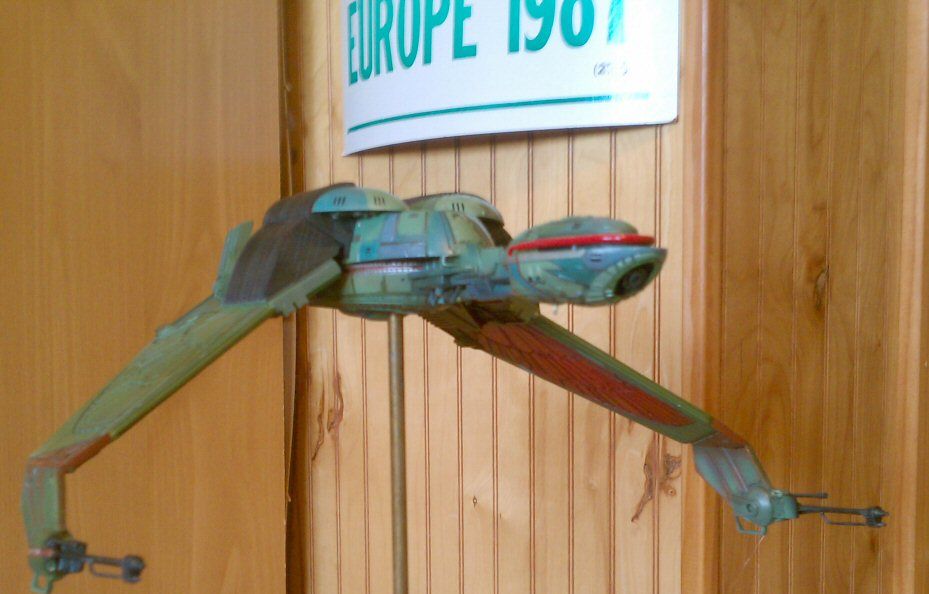 __________________
Current assignment:
U.S.S. Miranda NCC-1833
04-18-2013, 07:56 AM
More dangerous than I look!

Join Date: Jan 2008

Location: Meriden, CT

Posts: 1,695
Re: DLM KBOP Positionable Wing Baffles
---
Dams, that's sweet!
| | |
| --- | --- |
| | |
Currently Active Users Viewing This Thread: 1

(0 members and 1 guests)
Posting Rules

You may not post new threads

You may not post replies

You may not post attachments

You may not edit your posts

---

HTML code is Off

---
All times are GMT -7. The time now is
11:47 PM
.
Powered by vBulletin® Version 3.8.3
Copyright ©2000 - 2019, Jelsoft Enterprises Ltd.