| | |
| --- | --- |
| Trumpeter 1/350 HMS Belfast | |
Product Reviews
Got a new kit, aftermarket accessory, or anything else modeling-related? Give us a review of it in this section. We need to hear the good and the bad. Please back up what you're saying with with photos (in cases of poor quality) or references (in cases of inaccuracies).
09-17-2013, 01:18 PM
Oh my!

Join Date: Oct 2007

Location: NY

Posts: 7,312
Trumpeter 1/350 HMS Belfast
---
I was stoked when Trumpeter announced a 1/350 Town Class Cruiser. Usually most of the ship kits made are either US or Japanese so I applaud that they are making ships from the British and Italian navies now.
First, a quick history, taken from Wikipedia:
http://en.wikipedia.org/wiki/HMS_Belfast_(C35
)
HMS
Belfast
is a museum ship, originally a Royal Navy light cruiser, permanently moored in London on the River Thames and operated by the Imperial War Museum.
Construction of
Belfast
, the first Royal Navy ship to be named after the capital city of Northern Ireland. and one of ten Town-class cruisers, began in December 1936. She was launched on St Patrick's Day, 17 March 1938. Commissioned in early August 1939 shortly before the outbreak of the Second World War,
Belfast
was initially part of the British naval blockade against Germany. In November 1939
Belfast
struck a German mine and spent more than two years undergoing extensive repairs. Returning to action in November 1942 with improved firepower, radar equipment and armour,
Belfast
was the largest and arguably most powerful cruiser in the Royal Navy at the time.
Belfast
saw action escorting Arctic convoys to the Soviet Union during 1943, and in December 1943 played an important role in the Battle of North Cape, assisting in the destruction of the German warship
Scharnhorst
. In June 1944
Belfast
took part in Operation Overlord supporting the Normandy landings. In June 1945
Belfast
was redeployed to the Far East to join the British Pacific Fleet, arriving shortly before the end of the Second World War.
Belfast
saw further combat action in 1950–52 during the Korean War and underwent an extensive modernisation between 1956 and 1959. A number of further overseas commissions followed before
Belfast
entered reserve in 1963.
Belfast
is a cruiser of the second Town class. The Town class had originated in 1933 as the Admiralty's response to the Imperial Japanese Navy's
Mogami
-class cruiser, an 11,200-ton cruiser mounting fifteen 6-inch guns with a top speed exceeding 35 knots. The Admiralty's requirement called for a 9,000 ton cruiser, sufficiently armoured to withstand a direct hit from an 8-inch shell, capable of 32 knots and mounting twelve 6-inch guns. Seaplanes carried aboard would enable shipping lanes to be patrolled over a wide area, and the class was also to be capable of its own anti-aircraft defence.[8] Under the Director of Naval Construction the new design evolved during 1933.[9] The lead ship of the new class, the 9,100-ton HMS
Southampton
, and her sister HMS
Newcastle
, were ordered under the 1933 estimates.[10] Three more cruisers were built to this design, with a further three ships built to a slightly larger 9,400-ton design in 1935–36.[10] By 1935, however, the Admiralty was keen to improve the firepower of these cruisers to match the firepower of the Japanese
Mogami
- and American
Brooklyn
-class cruisers; both were armed with fifteen 6-inch guns.[9] The Admiralty rejected a design featuring five triple turrets as impractical, while an alternative design fitting four quadruple turrets was rejected as an effective quadruple turret could not be developed.[11] In May 1936 the Admiralty decided to fit triple turrets, whose improved design would permit an increase in deck armour.[12] This modified design became the 10,000-ton Edinburgh subclass, named after
Belfast
's sister ship HMS
Edinburgh
.[10]
Belfast
was ordered from Harland and Wolff on 21 September 1936,[13] and her keel laid on 10 December 1936.[13] Her expected cost was £2,141,514; of which the guns cost £75,000 and the aircraft (two Supermarine Walruses) £66,500.[14] She was launched on Saint Patrick's Day, 17 March 1938, by Anne Chamberlain, the wife of Prime Minister Neville Chamberlain.[13] The launch was filmed by Pathe News.[15] From March to August 1939
Belfast
was fitted out and underwent sea trials.[1][13]
When completed,
Belfast
had an overall length of 613 feet 6 inches (187.0 m), a beam of 63 feet 4 inches (19.3 m) and a draught of 17 feet 3 inches (5.3 m). Her standard displacement during her sea trials was 10,420 long tons (10,590 t).[3] She was propelled by four three-drum oil-fired Admiralty water-tube boilers, turning Parsons geared steam turbines, driving four propeller shafts.[1] She was capable of 32.5 knots (60.2 km/h; 37.4 mph) and carried 2,400 long tons (2,400 t) of fuel oil.[3] This gave her a maximum range of 8,664 nautical miles (16,046 km; 9,970 mi) at 13 knots (24 km/h; 15 mph).[4]
Belfast'
s main armament comprised twelve Mk XXIII six-inch guns in four triple turrets. With a rate of fire of up to eight rounds per gun per minute, her main battery was capable of a maximum rate of fire of 96 rounds per minute.[4] Her secondary armament comprised twelve 4-inch guns in six twin mounts. Her initial close-range anti-aircraft armament was sixteen 2-pounder "pom-pom" guns in two eight-barrel mountings, and two quadruple Vickers .50 machine guns. She also mounted six Mk IV 21-inch torpedo tubes in two triple mounts, and fifteen Mk VII depth charges.[1][3]
Belfast
was protected by a 4.5-inch (110 mm) main armour belt, with deck armour of 3 inches (76 mm) over her magazines, and 2 inches (51 mm) over her machinery spaces.[3] Her six-inch turrets were protected by up to 4 inches (100 mm) of armour.[4]
Belfast
's aviation capability was provided by two catapult-launched Supermarine Walrus amphibious biplanes. These could be launched from a D1H catapult mounted aft of the forward superstructure, and recovered from the water by two cranes mounted on either side of the forward funnel. The aircraft, operated by the Fleet Air Arm's HMS
Belfast
Flight of 700 Naval Air Squadron, were stowed in two hangars in the forward superstructure.[2]
And now onto the preview.
Here's what greeted me after cutting off the shrinkwrap and opening the box: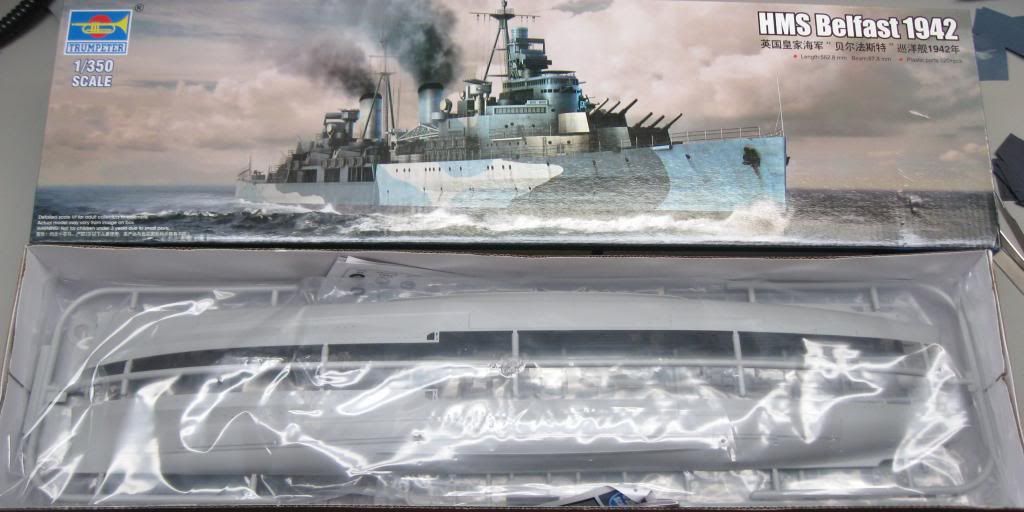 Next I started viewing the various bags filled with plastic goodness. Here's the hull; it's a full hull but you can cut it down to waterline if you choose:
Here's the deck pieces: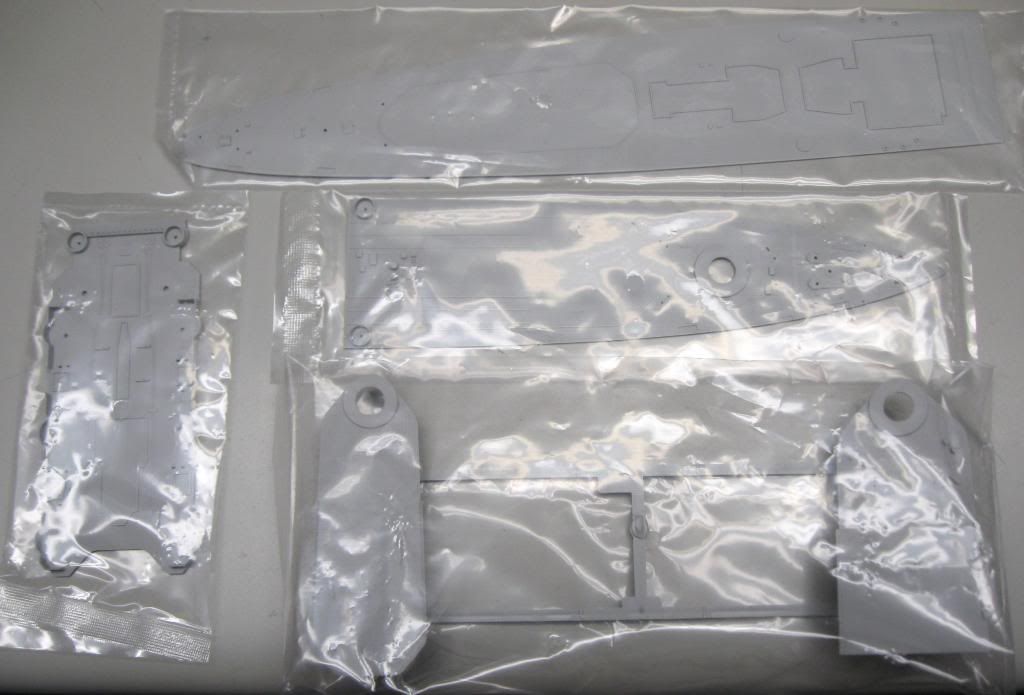 More deck sections and the funnels: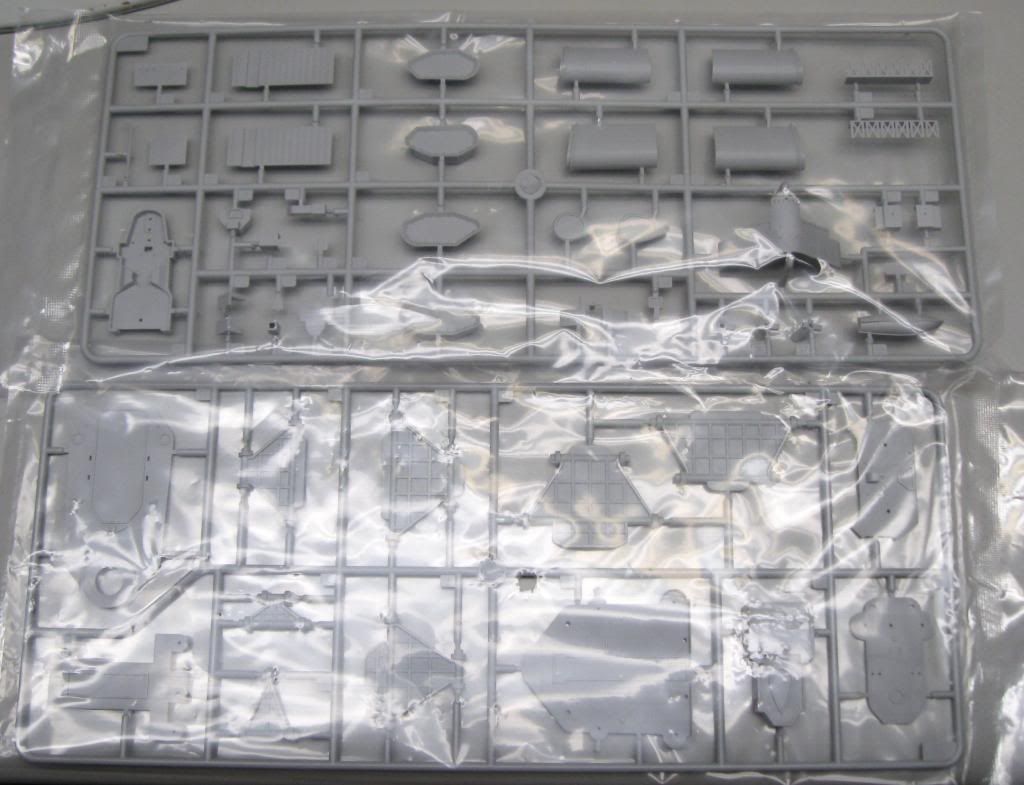 Here's the bridge sections and seconday/AA armaments:
Main turrets:
Aircraft, PE and display stand: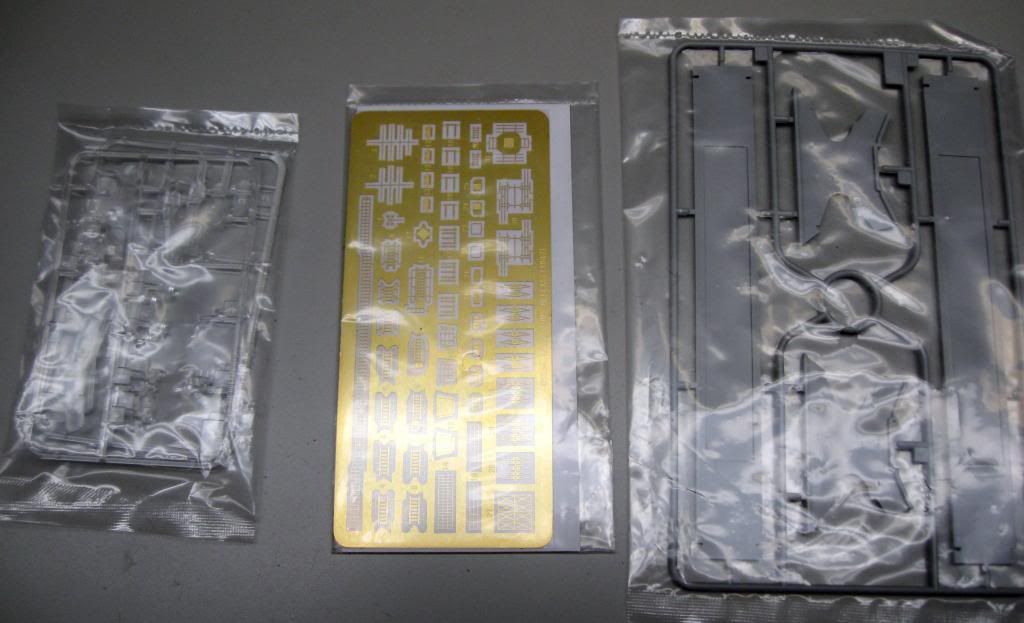 Instruction sheet: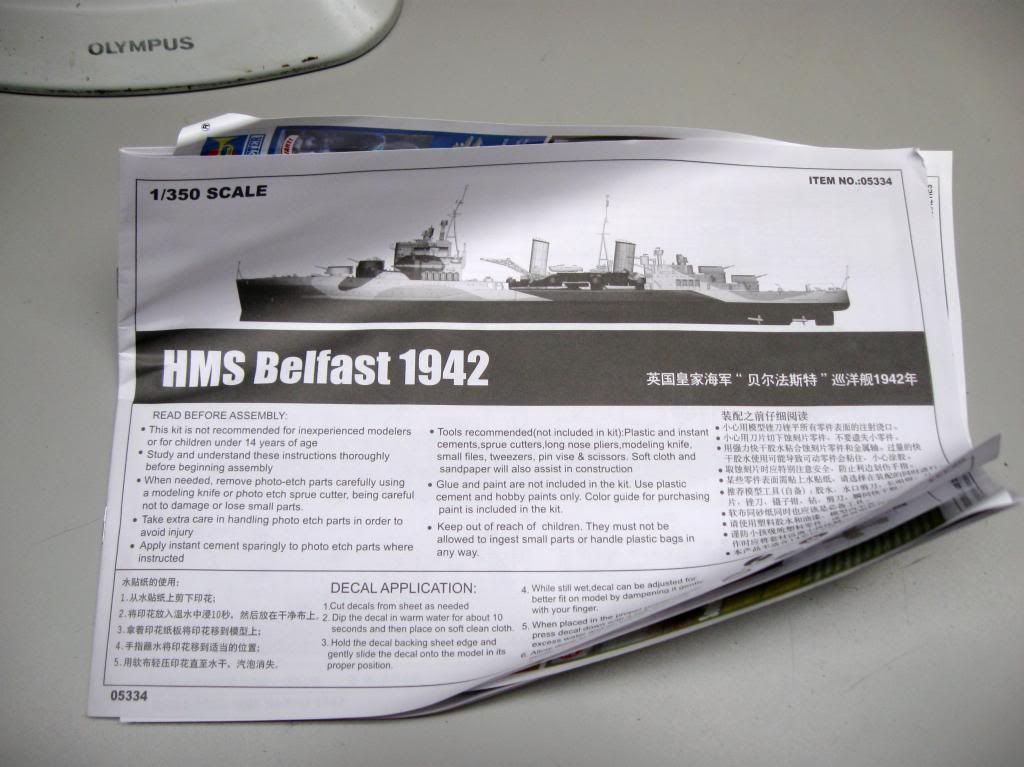 General thoughts on the kit:
It seems typical of Trumpeter quality. As usual the artwork on the box, diagram on the side of the box and the actual kit don't match up. Especially in terms of AA placement.
The Walrus aircraft are terrible and will either need to be replaced or left out alltogether. They need a lot of work.
The light AA (20mm) and pompoms aren't very well detailed. I also dont like that the narrow box crinkled my instruction booklet. Makes it a PITA to flatten it out.
As far as accuracy it's simlar to my HMS Sheffield kit but they are different hulls despite both being the Town class.
The price of $75 I feel is pretty reasonable. I'm just happy to finally see a British Cruiser in plastic on the market.
__________________
Shaka, when the walls fell.
His eyes opened!
The bubbles rose.
09-18-2013, 03:37 AM
Glacial Pace Builder

Join Date: Oct 2007

Location: Adelaide, South Oz

Posts: 6,316
Re: Trumpeter 1/350 HMS Belfast
---
That looks like a nice parts doner, er, buildable kit there Eric. Nice size too, look forward to seeing how this one builds up.

Mike
__________________
https://www.facebook.com/groups/GalacticaModels/
09-20-2013, 11:42 AM
Member

Join Date: Jan 2010

Posts: 431
Re: Trumpeter 1/350 HMS Belfast
---
Looking forward to this one. I'm going to wait until Flyhawk and Pontos release sets for it, though. The Pontos stuff is insanely detailed. Super review.

Bob
Currently Active Users Viewing This Thread: 1

(0 members and 1 guests)
Posting Rules

You may not post new threads

You may not post replies

You may not post attachments

You may not edit your posts

---

HTML code is Off

---
All times are GMT -7. The time now is
06:15 AM
.
Powered by vBulletin® Version 3.8.3
Copyright ©2000 - 2020, Jelsoft Enterprises Ltd.